BCH Summer Exposure Camp report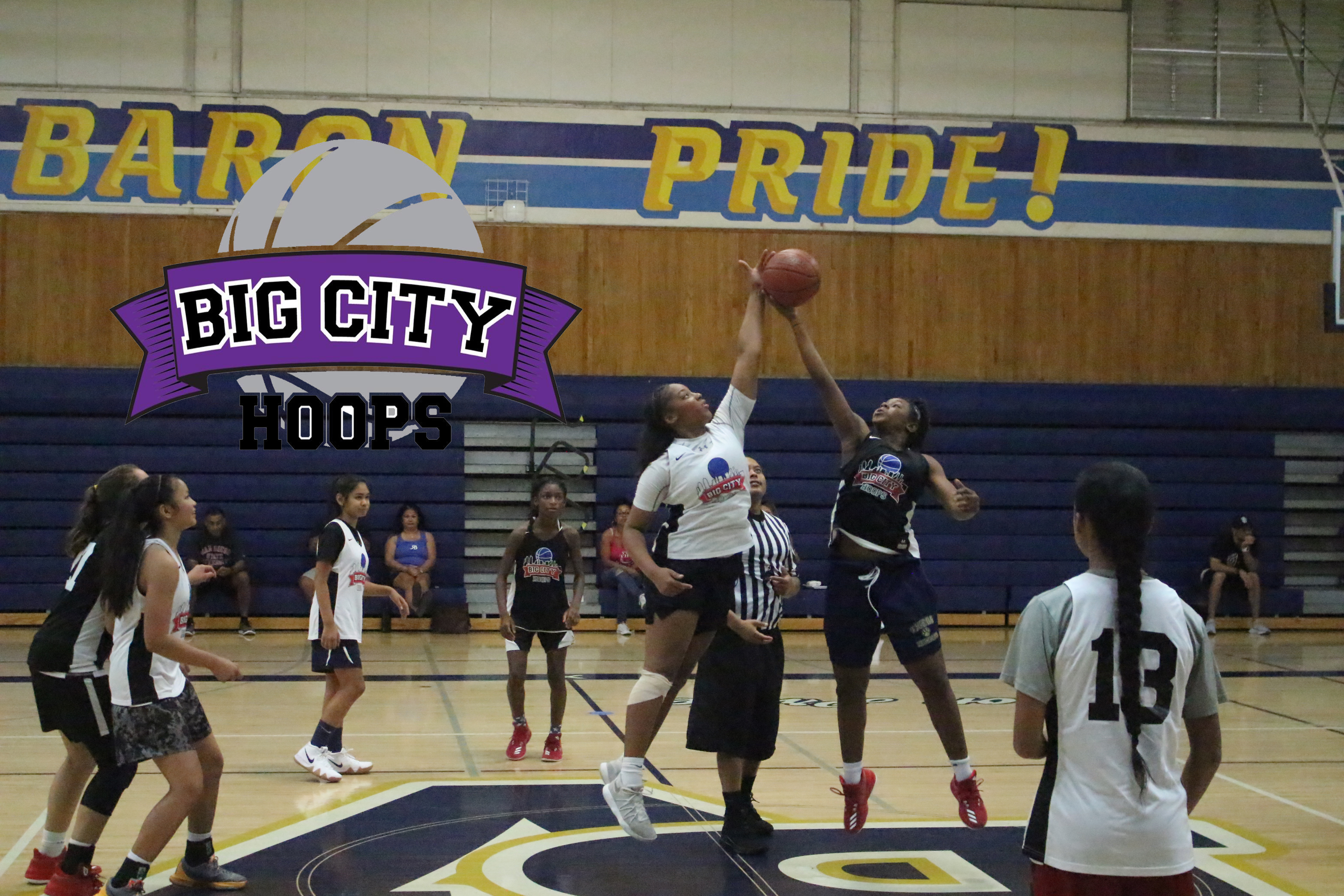 Big City Hoops summer exposure camp was a huge success, the players who attended played extremely hard, were attentive to Instruction and had a burning desire to get better. We watched and took notes of all the participants and based on those notes and observations, here is our report which will include the camps top performers.

Lynette Garon 2020 5'4 PG Otay Ranch High School, Chula Vista Ca– Lynette Garon came into camp as a virtual unknown prospect, even though she was named to the 2nd team for the Metro League in the Sweetwater School District. Some of Garon's Under exposure may be due to the fact that she competes on a high school team that currently is struggling to keep pace with programs such as Bonita Vista, Mater Catholic and East Lake. Garon arrived at camp eager to show that her 2nd team placement was no fluke. Garon is quick, can handle the ball well and can defend. Garon has a good feel for the game and sees the open floor in transition, getting the ball to the open player. After the 1st day it was clear that Garon had outworked a majority of the camp participants.
Anneth Grijalba 2019 PG Bonita Vista High School, Chula Vista Ca- we've talked about Grijalba on numerous occasions, Grijalba is probably the most underrated player in San Diego County. Grijalba is an excellent ball handler, passer and defender. Grijalba can be a hand full for most defenders as she is strong and has a college ready physique. Grijalba's rebounding is exceptional and her shooting as well as her mid range game is deadly. If Grijalba can have a breakout year in scoring, we will project her as a solid D1, D2 choice.
Laryssa Kure 5'10 G/F 2019 Bonita Vista High School, Chula Vista CA-  Laryssa Kure is a big time sleeper as is Grijalba in the class of 2019. Kure is a big G/F who can really knock down the three ball and mid range jump shot. Kure has improved in her ability to slash to the basket and rebound, Kure is a solid player who would be a solid pick up for any coach at the next level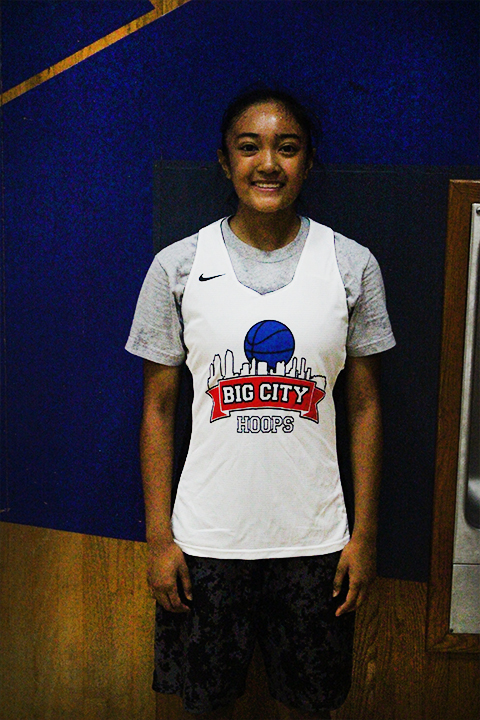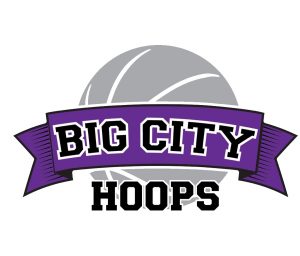 Madison Canon 5'11 2023 Eastlake Middle School, Chula Vista CA– Madison Canon is a long athletic player who already has the size and the strength to impact a game at her age level and beyond. Canon showed the ability to rebound, run the floor and finish near the rim. Canon is still learning the game and if she develops a mid range and long range jumper, we may be talking about her being the next major prospect to come out of the San Diego Area.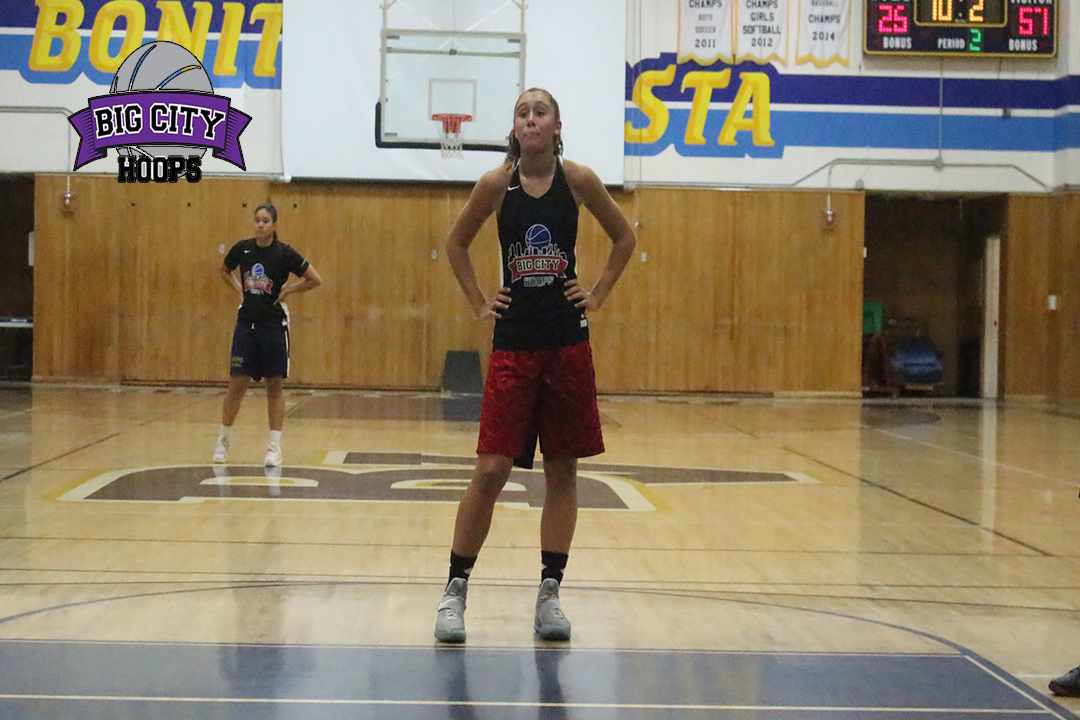 Sterling Edwards 5'5 PG 2021 Bonita Vista High School, Chula Vista CA- Sterling Edwards is an intriguing prospect as she has continued to improve on the offensive end as she is already considered to be one of the best defenders in San Diego County. Â Edwards consistently knocked down the three point shot and consistently made steals on the defensive end. If Edwards can continue her steady development and improve upon her basketball IQ, she will play at the next level.
Teanna Alaman 5'9 PG 2021 Mater Dei Catholic, Chula Vista CA-Â Teanna Alaman is a long and athletic PG/W who can handle the ball, pass and see the floor. Alaman showed that she has the ability to knock down the mid range and three ball. Alaman presents a problem for most offensive players as she has a long wing span and can clog the lanes. Aleman is part of the 2021 class that is loaded, but she is one of the five best in the class. Alaman's success at the next level depends on her playing time in high school and at the club level.
Alexis Wade 5'10 F 2021 Morse High School, San Diego CA– Alexis Wade performed well at this past weekends camp and really had a huge showing on Sunday during the showcase games as she really turned heads with her slashing ability and overall defensive  energy. Wade has adequate handles but has good footwork with her back to the basket. Wade will be an integral part of the Morse season if they wish to get back to a competitive level in San Diego.
Amaya Howard 5'6 SG 2021 Christian High School, El Cajon CA- Amaya Howard is an athletic shooting guard who possesses ball handling ability, passing and rebounding. Howard is a good defender who excels in help side defense. Howard can have a breakout season on a loaded Christian High team, if she takes that energy to the next level. By the time Howard is a senior she should be in the discussion of best players in San Diego County.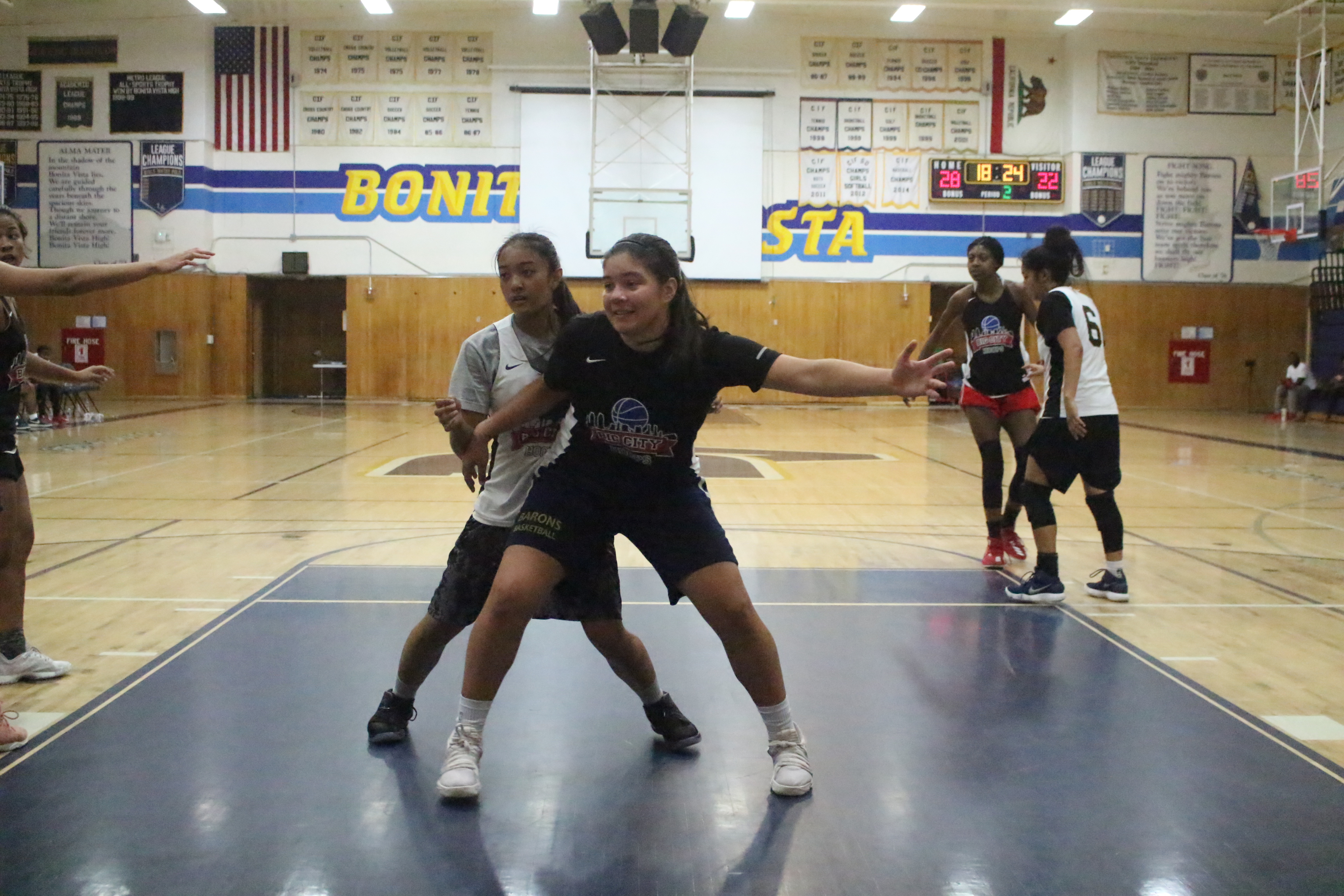 Veronica Ruiz 5'7 SG 2019 Victor Valley High School, Victorville CA – Veronica Ruiz is a second team all High Desert player that came to camp and showed why she is deserving of that award. Ruiz is a good ball handler who has a good feel for the game and tends to be able to get her teammates involved on both the offensive and defensive ends. Ruiz is physical on the defensive end of the floor as she tends to crowd the ball handler which coaches worth their salt would love. Once Ruiz realizes how good she is, we believe she should be at the top of list of best players in the high desert.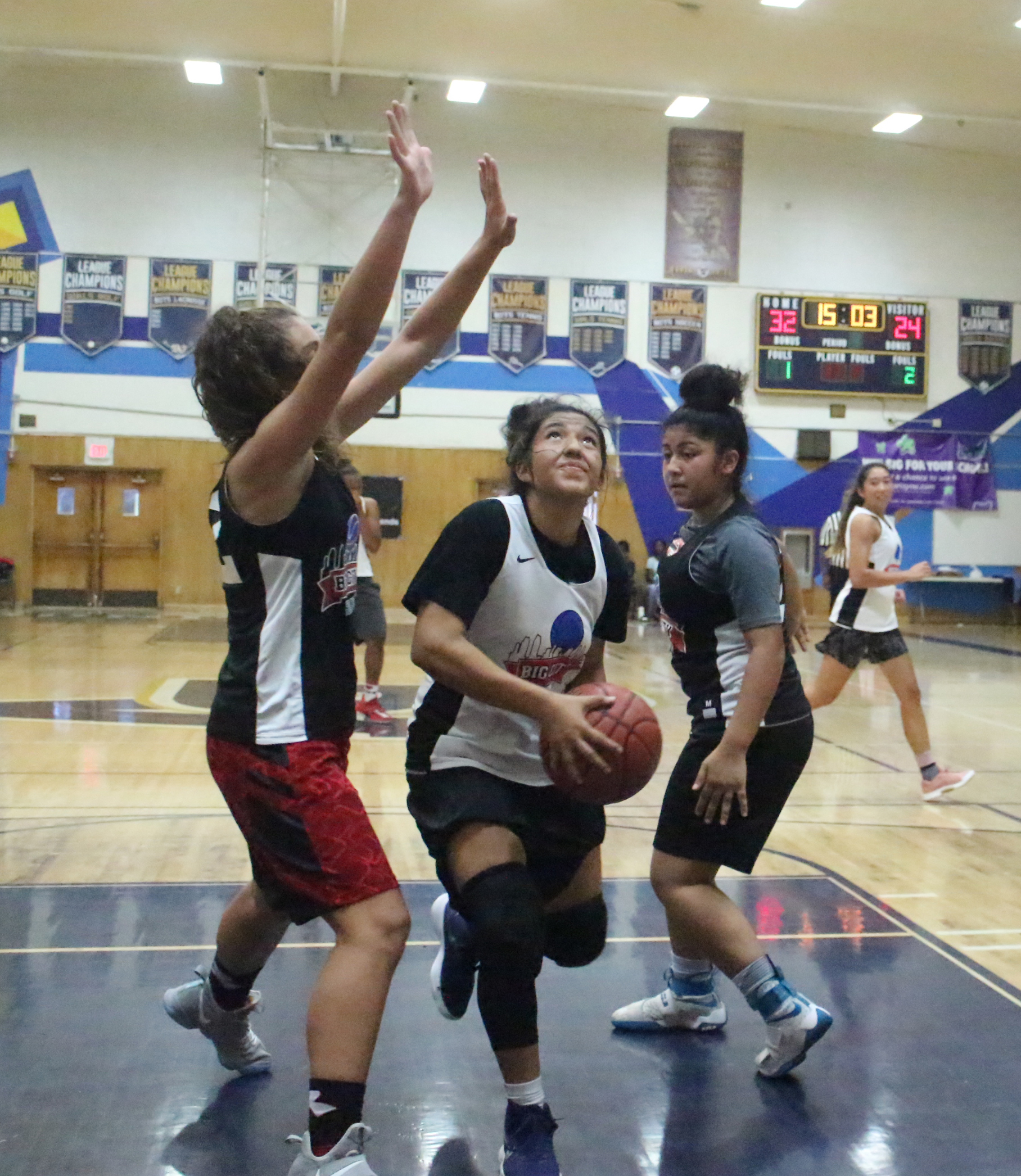 Isabella Rector 5'7 SG 2021 Bonita Vista High School, Chula Vista CA- Isabella Rector is a player who is continuing to improve since her freshman season. Rector is a shooter with a nice touch from well beyond the three stripe. Rector has improved upon her slashing ability and footwork. Isabella plays hard and has leadership qualities not seen in players her age. we will have our eye on Rector as this upcoming season progresses.
Kaylyn Buchanon 5'4 PG 2023 Bonita Middle School, Chula Vista CA- Kaylyn Buchanon for her age Is already playing at a high level. Buchanon can handle the ball, pass and see the floor in transition. Buchanan has a high basketball IQ and is a very good slasher when trying to get to the rim. lf Buchanon can continue to improve defensively, she will be the whole package, Buchanon has a bright future with a tremendous upside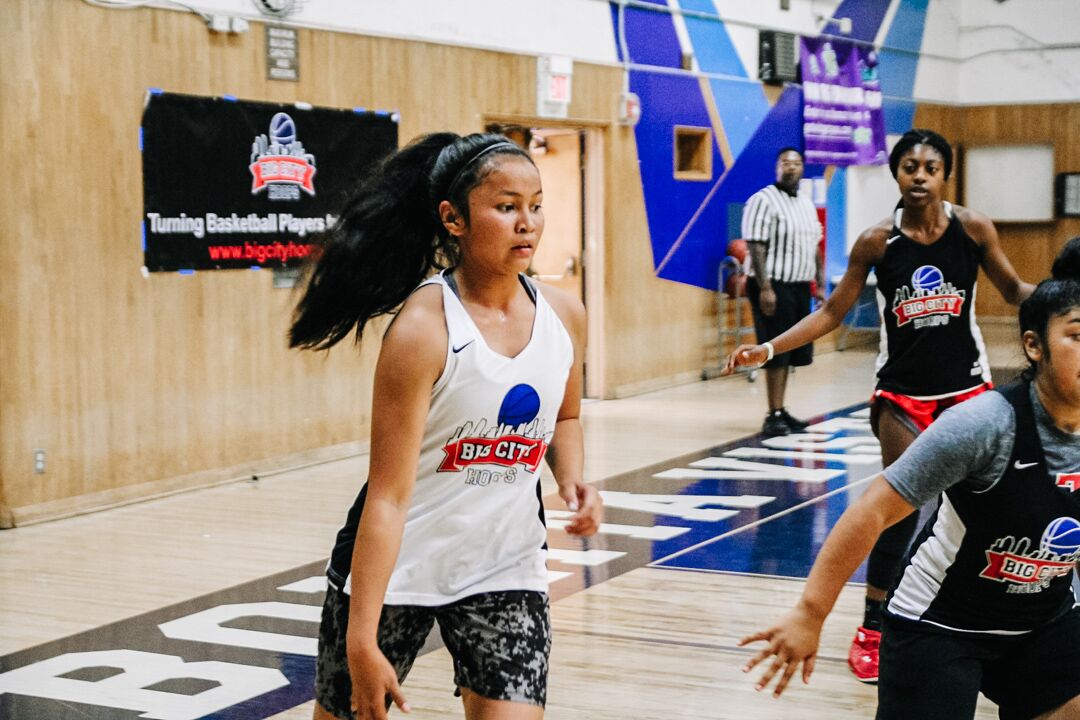 Player evaluations:
Aubrey Valdez 5'2 PG 2022 Bonita Vista High School, Chula Vista CA- Aubrey Valdez is a solid point guard who rarely turns the ball over. Valdez has a high basketball IQ and is an adept passer, often finding the open player in transition. Don't be fooled by Valdez's size, she's a tough defender, who plays hard and makes her teammates better. Valdez has the potential to be a very good player in the years to come, even beyond high school.
Makayla Puckett 5'6 G 2021 Bonita Vista High School, Chula Vista CA- Makayla Pucket is a strong  G/F who has the unique ability to slash to the basket and draw contact. Puckett is a strong rebounder due to her physicality. We will be keeping an eye on Puckett this upcoming season.
Eva Ciriza 5'3 SG 2019 Olympian High School, Chula Vista CA– Eva Ciriza is one of the best shooters in the southbay and has improved her ball handling abilities as well as her defense. Ciriza is a very good passer often finding teammates in transition off the dribble. Ciriza will be a big part of Olympians run to repeat for a CIF D2 title.
Isa Fidelino 5'6 PG 2019 Olympian High School, Chula Vista CA- Isa Fidelino is one of the most underrated players in the southbay. Fidelino is a heady tough point guard with a very good feel for the game. Fidelino has worked hard to improve her shooting as well as her rebounding, Fedilino has a knack for slashing to the basket and finishing around the rim. Fidellino like Ciriza will be a huge component of Olympians run to another CIF D2 section title.
Kayla Wade 5'8 G/F 2021 Bonita Vista High School, Chula Vista CA- Kayla Wade is an extremely athletic G/F, who is raw but making steady improvements. Wade can rebound and run the floor, we will be keeping an eye on her this upcoming season.
Emani Simeon 6'0 F 2019 San Marcos High School, San Marcos CA- Emani Simeon is a long athletic forward who creates problems for offensive players due to her wing span. Simeon is a bit raw on the offensive end, but has made great improvements while playing on the spring and summer club circuit. Simeon should be a factor in San Marcos's run for another berth in the CIF San Diego Section open division.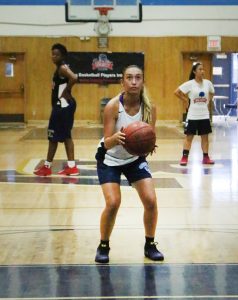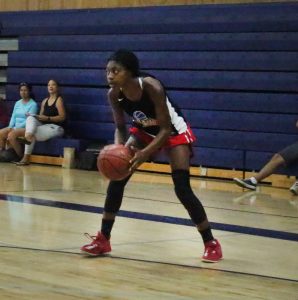 Malia Huett 5'9 F 2019 Bonita Vista High School, Chula Vista CA- Malia Huett has made steady improvements over the last six months. Huett is a very Cerebral player  who rebounds well and defends well. Huett has improved offensively and we will be closely watching her and the Barons this season.
Hallie Smith 5'6 G 2022 Bonita Vista High School, Chula Vista CA- Hallie Smith is another young rising southbay prospect, Smith has the size and frame to compete at a higher level than her age group. Smith works extremely hard, especially on the defensive end of the floor. Smith is improving in the areas of ball handling, shooting and passing. We look for Smith to have a solid debut year on the high school scene.
Shyelour Edwards 5'4 PG 2022 Bonita Vista High School, Chula Vista CA- Shyelour Edwards is a good guard who can adequately handle the ball, defends well and passes with efficiency. Edwards has a strong desire to improve, which makes her easily coachable.
Kaliyah Witherspoon 5'7 G/F 2022 Bonita Vista High School, Chula Vista CA- Kaliyah Witherspoon is a strong, raw, athletic player who works hard and has an ability to rebound and score around the rim. Witherspoon handles the ball adequately and is improving, defensively Witherspoon excels due to her physical strength and speed. Witherspoon is one to watch in the next few years.
Lala Wadley 5'2 PG 2019 Steele Canyon High School, Rancho San Diego CA– Lala Wadley was a pleasant surprise at our exposure camp, as she performed with a lot of poise and confidence we hadn't seen since her freshman year. Wadley can shoot, pass and defend for her size and works extremely hard. With Wadley's confidence back in hand we expect her to have a breakout senior year and be a first team All Grossmont league selection.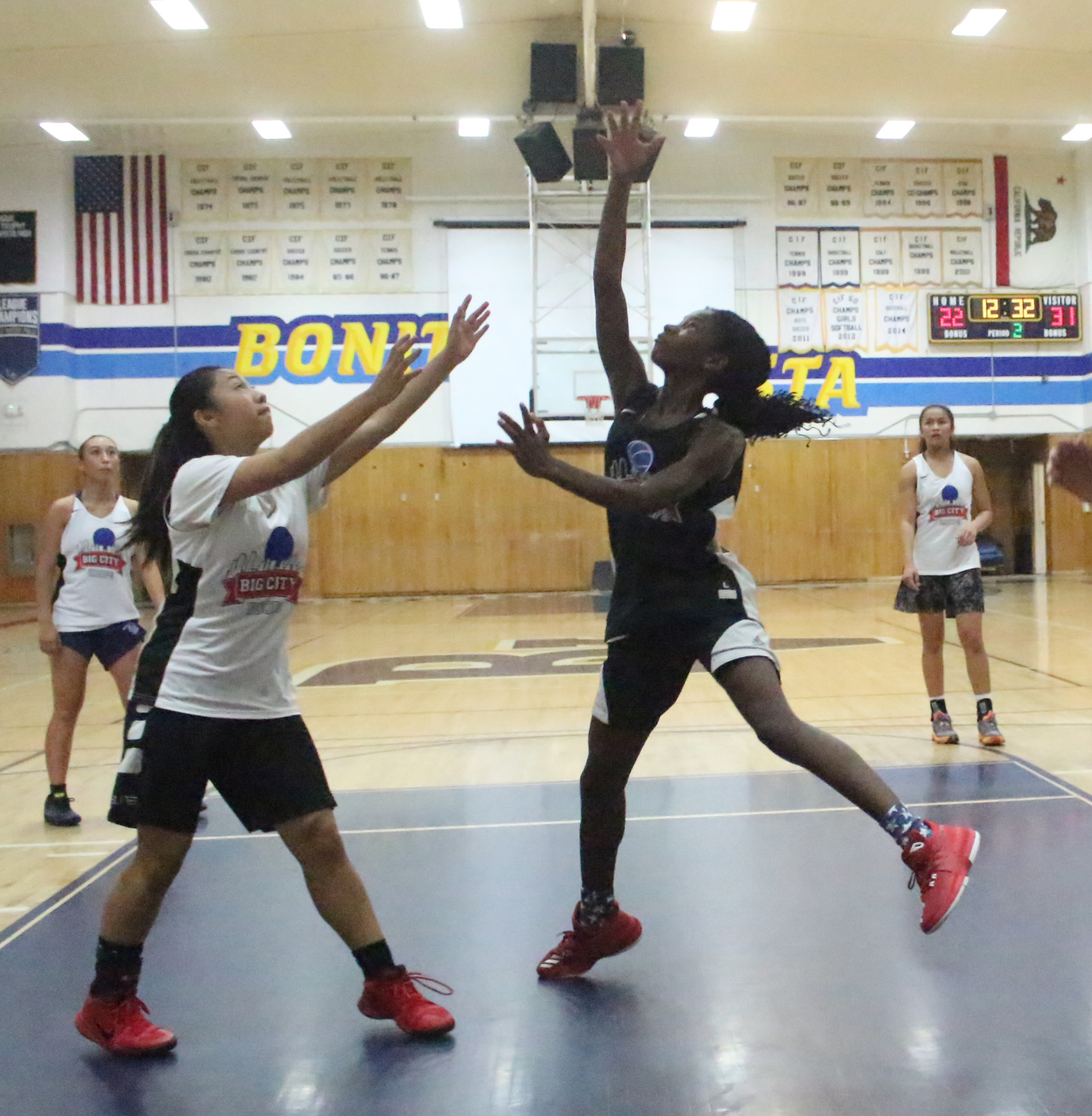 Noelle Flores 5'2 PG Rancho Bernardo High School, San Diego CA- Noelle Flores came to camp and as the camp went on Flores's confidence increased and she began to show what she could do.  Flores has good handles and plays defense well. Flores will be a freshman at Rancho Bernardo High School and will develop in that good program.
Jordan Whitehead 5'7 G 2024 Vista Del Mar Middle School, Chula Vista CA-  Jordan Whitehead for her age is an intriguing prospect. Whitehead has size and ability, all be it raw, in one package. Whitehead shot the ball well from mid range and rebounded well. Whitehead was not intimidated by the competition and was an easily coachable kid. Whitehead ceiling is sky high if she continues to develop.
Marissa Caquioa 5'3 PG 2021 Mater Dei Catholic, Chula Vista CA- Marissa Caquioa was injured during the camp, but she attended and supported the camp and her teammates. We will be following Marissa at Mater Dei Catholic.
Malia Washington 5'5 G 2025 Elementary School, San Diego CA- Malia Washington is only in the 5th grade, but she played as if she were much older. Washington has a good feel for the game and can dribble, pass and rebound. Washington will be one to watch in the future.
Sharaya Thomas 5'11 F/C 2020 Bonita Vista High School, Chula Vista CA- Sheraya Thomas is a big, strong athletic forward, who is a glass eater (rebounder) when she wants to. Thomas has improved her offensive game as she can step out 10-12 feet from the basket and knock down the midrange shot. Thomas will be an Integral part to the Lady Barons run to repeat as Metro League champs and a CIF Section Titile.