Shyla Latone Cleveland State
Bonita Vista High School senior PG Shyla Latone has committed to Cleveland State University on Friday March 30, 2019. Latone had previously visited San Francisco State, Utah State and had a home visit from the coaching staff of Northern Arizona University. Latone will leave her legacy at Bonita Vista high having scored more than 3000 points in her career. Latone had multiple scoring games this season over 50 points and set the CIF San Diego Section scoring record with 76 points against Hilltop High. Congratulations Shyla on the next chapter of your career!!!!!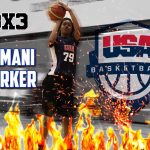 Ramani Parker to Louisville
The Fresno Lady Heat look to be loaded again this spring and summer as they  look to competitive on the adidas Guantlet, beginning in Phoenix April 20-22. We will have all the highlights and updates via twitter and Instagram.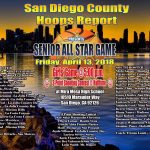 San Diego Girls Basketball All Star Game
The San Diego County Hoops Report All Star game is set for April 13, 2018 at Mira Mesa High School on April 13, 2018 at 5pm for the girls and 7:30pm for the boys. There will be loads of talent on each team, with some of the participants being unsigned seniors. Get out and support all the athletes in this event.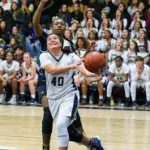 Anneth Grijalba looking to have a big summer
2019 5'7 PG/W Anneth Grijalba Bonita Vista High School, Chula Vista California, looks to turn her breakout Junior campaign into solid college looks, while competing on the spring and summer circuit for Lady EBO. Grijalba has a high basketball IQ and has an uncanny knack for seeing the floor in transition. Grijalba has improved her shooting to beyond the three point line and is a formidable rebounder as she averaged 8.9 rebounds per contest. Grijalba is starting to come into her own and has a very high ceiling, she should catch several college coaches interest in the spring and summer.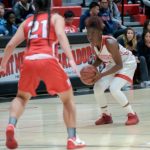 Michelle Corley in the Adidas Gauntlet with EBO red
Mt. Miguel standout Michelle Corley is looking to have a big summer playing with Lady EBO. She will be on the Adidas Guantlet red team for EBO. The 2020 guard bring solid play and athleticism. She will be fun to watch during the upcoming viewing period. She plays tough defense that helped the Matadors win the open divisions championship. This summer Michelle will be a player to keep an eye on as she continues to grow.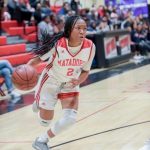 Tiaja Bennett ends a great season to start a great summer
2019 Mount Miguel High wing Tiaja Bennett turns tenacious defense into points on the other end. Bennett just concluded her junior season, which was a historic one for the Mount Miguel Matadors. Bennett was instrumental in the teams 30-2 run and a Grossmont League title. Bennett is one of the most tenacious defenders in San Diego County along with her teammate Michelle Corley. Tiaja Bennett has also improved on the offensive end this season and has proven that she is only just now reaching her potential. Bennett will be competing this spring and summer with Lady EBO and we will be keeping an eye on her.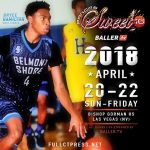 Great event happening in Las Vegas
Great event to attend if in the Las Vegas area , will be held at Bishop Gorman High School, lots of talent will be in the gym for this event.